A Letter From the President
April 2013
Dear Golden Family,
At last it looks like Spring might be here. It seems that winter came so early and overstayed its welcome. This terribly harsh winter found many Goldens in desperate need. On a positive note, Maggie, the dog we took from the shelter right after the hurricane, received acupuncture and she has shown us all how wonderful life can be. She now walks around, free of pain and happy to be with a new family. Tommy, who was dragged by a car, has found a loving home & family who are able to overlook his quirky behaviors. He is a truly lucky dog and a very happy one as well.
LIGRR was called on to assist a young female who was in the shelter in very bad shape. Found covered in oil, and wandering in the aftermath of Hurricane Sandy, she was merely skin and bones. We could feel her backbone & ribs, but she had a suspiciously round belly. Not long after being rescued from the shelter, we were thrilled when she gave birth to 10 Golden puppies. Nine of these adorable puppies survived and have gone on to find loving homes. To say that this could not have happened without the support, hard work and love that our volunteer Barbara and her family provided is a huge understatement.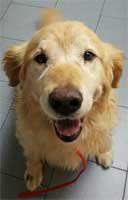 Misty was a sweet dog who came to us with many unknown medical issues including what we now believe was a brain tumor. She was fostered with a LIGRR family until she could no longer live comfortably. She was lucky to have a LIGRR family willing to offer her love and comfort in the end of her life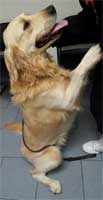 As we rolled toward Spring, we were called to take Brody, a 15 month old sweet and playful boy with bilateral hip dysplasia. He was in great pain when we took him. He is on his way to a pain free life, which will be achieved by two hip surgeries. While expensive, these provide a dog with the ability to live a normal active life.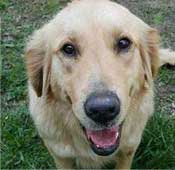 Oscar came to us recently and in addition to his arthritis he is suffering with mange. It is our hope that his treatment will soon be over and he can find a happy life with someone who will give him the love he deserves. He is an old soul who more than likely would not have made it out of the shelter without our assistance.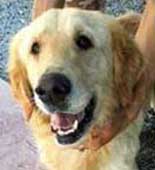 This year LIGRR lost one of its wonderful volunteers. Jan Sauter, a regular at our events, passed away leaving big shoes to fill. We will miss her very much.
Please join our volunteer team, support our events and continue to open your hearts to our dogs.
Wishing you a peaceful spring full of flowers and dog kisses
Never Miss a Golden Opportunity!
Melanie