LONG ISLAND GOLDEN RETRIEVER RESCUE
WALL OF FAME 2016-2017
It's that time again, LIGRR Family. The days are getting shorter and there's a chill in the air. Our cherished Goldens are taking long walks on the beach, frolicking in the autumn leaves and dreaming of making "Golden angels" in the snow.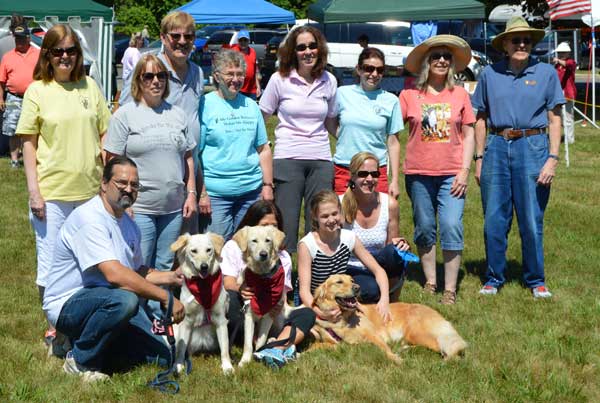 The holiday season is rapidly approaching, and with that in mind, I'd like to focus on thanksgiving (no, not the turkey day, although that is certainly part of it). We, the humans at LIGRR, have much to be thankful for. We have the love of every homeless Golden Retriever who has ever passed through our hands, on their way to their Forever Home (Yours?) We have the friendships that we have developed while doing rescue work, some of the most dependable and constant in our lives. We have the satisfaction of turning a dog's life completely around … from misery and pain to warmth, comfort and love. And best of all, we have YOU, because without your support, both financial and voluntary, Long Island Golden Retriever Rescue would not be able to do what it does every day.
Speaking of YOU … what do you have to be thankful for? Is one of your blessings your beautiful LIGRR Golden? Your rescued Golden Retriever loves you unconditionally. You don't have to sound brilliant, look good or drive a sports car. Your rescued Golden Retriever loves YOU, just as you are. (Besides, if you have adopted a LIGRR dog, we think you are pretty wonderful, too!)
Your dog is thankful to have you to love and care for her or him. Your Golden no longer has to sleep in the garage or in a forest, under the deck or in the street, or tied to a tree in the frigid cold. He or she is no longer hungry for days on end. Your pet's health is attended to with regular veterinary care, and if he or she should fall ill, you dog does not have to suffer without relief.
Every year LIGRR rescues and re-homes abandoned, neglected and needy Golden Retrievers. During the past year, we have expanded our efforts to include Goldens who were left to fend for themselves in the forests and streets of Turkey (our "Turkey Dogs"). So far we have provided care and found loving homes for 19 of these refugees. Not too shabby for a small group of volunteers with no office, no shelter and no regular source of income!
We do not turn away senior dogs or dogs with serious medical conditions, regardless of the potential financial consequences to LIGRR. In my opinion, one of the rescued Golden Retrievers that exemplifies this policy for LIGRR is Tanner.
Tanner was found abandoned in a rental apartment and brought to a Long Island town shelter. He had lost his hair on approximately one-third of his body and his skin was thickened and black. LIGRR stepped up and provided the necessary medical care to help Tanner regain his health (and hair!). When we found him the perfect home, his adoptive family continued Tanner's medical care. Tanner was a senior Golden and went to the Rainbow Bridge about a year after he was adopted. Tanner's family gave him a wonderful year, full of love and nurturing – possibly the best year of his life. Without the intervention of LIGRR, this would never have happened.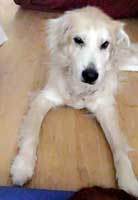 On the international front, we have our "Turkey Dogs," who have their new lives to be thankful for. As of this writing, we have taken 19 Golden Retrievers from Turkey. These dogs were abandoned on the streets of Istanbul and in the forests. They had to fend for themselves, fight other more aggressive dogs for food and resources, and did very poorly. Along with a number of other U.S. Golden Retriever rescues, LIGRR has come forward and committed to helping save these dogs. It is a costly process, but for these dogs, it is life itself, so we do what we have to do.
This, LIGRR Family, is where YOU come in. This is the 16th year we have done the Golden Gifts Wall of Fame. It has been a wonderful fundraising campaign for LIGRR. YOUR generous donations help us to "keep our heads above water" financially. A major portion of LIGRR's expenses are veterinary bills. In addition, it is quite costly to transport our Turkey Dogs to loving homes in the U.S. Your generosity will help us to both pay for the medical expenses of severely neglected dogs, and also to bring abandoned Goldens to their Forever Homes in America.
We realize that many of you "give from the heart", and expect nothing in return, other than knowing that you have helped to improve the lives of Goldens in need. However, we are very grateful for your assistance and want to acknowledge your generous spirit with a gift. When you make a donation to LIGRR's Wall-of-Fame, your name (or the name of someone you love) will be placed on the virtual Wall of Fame on our website. You will also receive a "Thank you" gift based on the amount of your donation. We want to acknowledge YOU and reward your generosity. We truly could not do what we do without your financial support. We do the hands-on piece of Golden rescue and YOU are "the wind beneath our wings".
Honor a loved one (person or dog), or give a space on "the Wall" and Golden Gifts to someone special on your holiday list. The Wall of Fame is a thoughtful memorial for a dog or dog lover who has passed. Or just put YOUR name there and be proud to have helped such loving dogs.
LIGRR is a 501(c)3 non-profit organization and donations are tax-deductible. (We will include a receipt with your gift package for tax purposes.)
Please remember to think of Long Island Golden Retriever Rescue if you have a donation matching program in your workplace.
THANK YOU to everyone who has given so generously in the past. Let's make the 2016-2017 Wall of Fame the Biggest and Best one ever!
Here are the Donation Categories and your "Thank You" Gifts:
$500 & up Donation – "Rescue Hero" – Exquisitely Detailed Sterling Silver Earrings from Esquivel and Fees
$250 Donation – "Best of Show" – Brass and Stainless Golden Retriever Keyring from Esquivel and Fees
$100 Donation – "Leader of the Pack" – LIGRR Golden Baseball Cap
$50 Donation – "Faithful Companion" – Golden Retriever Pendant with Filigree Detailing
$25 Donation – "Good Dog" – Golden Retriever Magnet
Best wishes for the upcoming holiday season to our LIGRR Family (both human and Golden). We have the BEST adopters in the world! Thank you for your continuing support, both in providing exemplary homes for our rescued Goldens, and for the financial assistance which enables us to continue on our mission of saving lives.
Donations may be made by:
Check payable to LIGRR and mailed to:
Long Island Golden Retriever Rescue, Inc.
P.O. Box 566
Plainview, New York 11803-0566
Rescue Hero - $500 and up donation
| | |
| --- | --- |
| Eclipse and Mozart - Life Coaches | Lee Lipman |
| Lynn Thompson | Susan and Pat Vitek |
| Jana and Gary Kron | George Baker |
| Peter and Roberta Gottlieb | In Honor of Mick |
| Snyder Family Foundation | Laurie Walters and Hans Bald |
| Jean-Luc Urbain and Suzanne Quirk | Ruth Human |
12

Best in Show - $250 and up donation
| | | |
| --- | --- | --- |
| Valerie Medina | Justine Moriarty and Jim Cronin | In memory of Goldie |
| William James | In honor of my mom who helps us and the Goldens - Justin Winawer | Kathryn and John Kollegger |
| Paul and Karen Coco | James and Sharon Conway | Tom and Leslie McPartland |
| Susan and Daniel Mahoney | THANK YOU VOLUNTEERS!!! | Edward and Linda Cathcart |
12

Leader of the Pack - $100 and up donation
| | | | |
| --- | --- | --- | --- |
| Michael Heaney | Richard and Pamela Rubinstein | Susan Stark | Robert and Tara Morris |
| Dwight and Kathleen Burton | Leslie and Tom McPartland | Daniel O'Leary | John Dougherty |
| Patricia Dillon | Margretta Johnson-Sally | Terrence and Ann Shirlow | In memory of Jay |
| Maxwell DeLorean White | Regina Greiner | Margaret Harboy | Janice Chew |
| Nancy and Ron Israeli | Francis J. Koch | Jonathan Maller | Gilda and Charles Omage |
| Bernice Greene | Gina Bianchi | Nancy and Donald Frankmano | Geri and Vinnie Raab |
| Jennifer Robbins | Terry Nigrelli | John Zeiser | Matthew Rocco |
| In Loving Memory of Tyler, Ollie, and Charlie Scala | With Gratitude from the Scala Family | Ann Osti | Edward and Petre Desciora |
| Marea Pisani | Sally Hobson | Sherry Plevretes | Cynthia Young |
| Catherine Dault | Alice Li and Stephen Polancic | Frank and Nancy Garofalo | Susan Stark |
| Mary and Eugene Gabrell | | | |
41

Faithful Companion - $50 and up donation
| | | | | |
| --- | --- | --- | --- | --- |
| Henry Speicher Jr. | William Whaley | Lynn Corriss | Steven and Debbie Spiro | Robert Schwartz |
| Paul and Arleen Goscinski | Thomas and Christine Speicher | Scott and Audrey Koltun | Callista and Paul Tully | Gerard Picardi |
| Michael and Eileen Dicristofaro | Dr. Pearl Michalow | Michael Serif | Lawrence and Cindy Zaginski | Karen Weber |
| Constance Spellman | Robert and Carole Moen | Dennis and Doreen Daly | Barbara and Christopher Krucher | Arlene and Steven Russ |
| Regina and Gerri Tomanelli | Claire and Christine Wallace | Karen Schlain and George Sweeting | Barbara and Michael Amatrudo | Susan and Gary Levine |
| Joyce Wong | Oakley Wood | Patricia and Edward Schling | Lisa Durso | Anthony and MargaretBarenzano |
| Marcelino Santiago and Terry Bain | Sean and Clorinda Brady | First Impressions | Thomas and Margaret Harrington | Debra and David Croce |
35

Good Dog - $25 and up donation
| | | | | | |
| --- | --- | --- | --- | --- | --- |
| In memory of Comet | Virginia and Dominick Carotenuto | Dominick and Alina Durso | Dolores and James Derosa | In memory of Ethel | In Memory of Charlie Pollack |
| Christopher Gattuso | Mindy and Jessy Davidson | Stanley and Claudia Kaufman | Victoria and Wilson Quinones | For Bruce and Daisy | In memory of Heidi and Magie |
| Suzanne McMahon&Thomas Carroll | Susan and Gary Nappo | Joann and Reynold | Paul Logan | Robert and Amy Rubin | Karen Farrell |
| Michael and Allison Coyne | Ralph and April Iervolino | Michael and Celeste Liberatore | Ellen Broselow and Daniel Finer | Don Candee and Debby Lewis | Cynthia Gillen |
| John and Rosemarie Leignadier | In memory of Trey Sweeting | Howard Kipnes | | | |
27