Murphy
Dear LIGRR,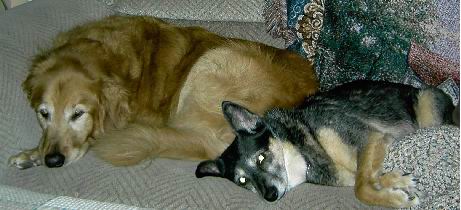 Just wanted to let you know how happy we are with Murphy. He has been with us over a year now and it's as if he's always been a member of our family. Our first dog, Lacey, who is 11 years old, has adjusted beautifully to the new addition. They are quite funny together. Murphy, a.k.a. "Mr. Sunshine" is a smile on your face the moment you walk in the door. He is beautiful, gentle, sweet and funny and a wonderful addition to our family.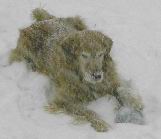 I am enclosing two pictures of Murphy. One was taken over last weekend in the blizzard. He is like a child in the snow. He goes outside and lays down to make "doggy angels". The other picture is of our two dogs - they snuggle together on the couch.
Again, thank you for our "Mr. Sunshine". We appreciate all your hard work and effort on behalf of all the goldens and the families that adopt them.
Sincerely,
Pat & Jill